Faculty Recruitment of Concord University College Fujian Normal University for the 2018-2019 School Year
11

15, 2018
I. Positions andRequirements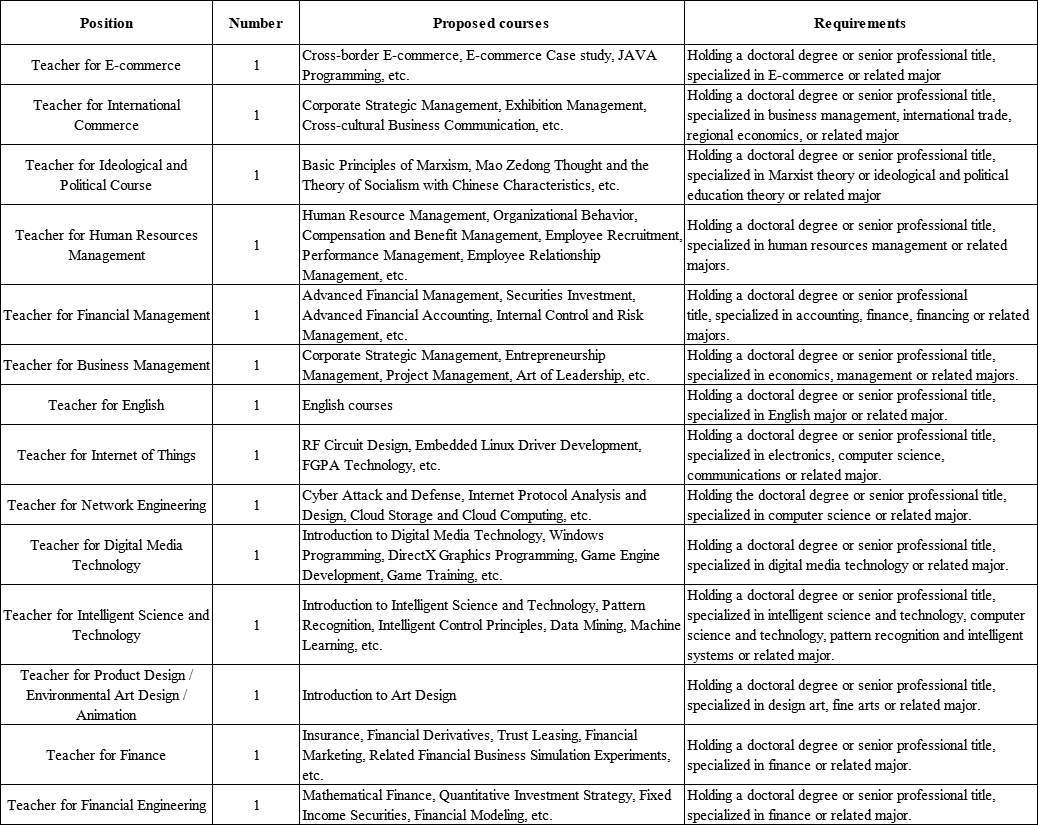 II. Human relations andsalary package:
Human relations: employmentunder contract; the personnel archives will be managed in the personnel market.
Salary package: Annualincome of about 150,000 - 230,000 yuan. The faculty and staff members will havehousing provident fund and other social insurances as stipulated in thenational policies. Subsidy for overtime is also provided. Candidates who meetthe qualifications in Measures for Talent Introduction of Concord UniversityCollege Fujian Normal University College (Provisional) will enjoy salarypackage for high-level talents with the approval of CUC. For special talentsurgently needed in certain disciplines or majors, special recruitment policiesand salary packages will be adopted through consultation.
III. Applicationmaterials and recruitment process
1. Application materials
Applicants should submitthe following materials by email or express delivery to the Human ResourcesDepartment of CUC: résumé, Application Information Sheet (Annex 1), Full-TimeTeacher Recruitment Registration Form (Annex 2), and other related materials(copies of ID card, all diplomas, professional and technical qualificationcertificates and letter of appointment, teacher qualification certificate forhigher education, award certificates, employment recommendation form, etc.)
Email:cuc_rlb@fjnu.edu.cn.
Address: Room 411(HumanResources Office), Concord University College Fujian Normal UniversityAdministration Building, Xuefu Nan Road, Fuzhou University Town (350117).
2. Qualificationexamination
CUC recruitment panelwill conduct qualification examination on the application materials submittedby the applicants and will select the candidates for interview.
3. Notification aboutassessment will be posted later.
IV. Noted
1. Recruitment procedurefollows the principles of transparency, fair competition and meritocracy. Anyonewho violates the principles will be disqualified from the selection and will bedismissed from contracted position.
2. Informationunspecified in this notification is to be interpreted by Concord UniversityCollege Recruitment Working Group
3. The notification ispublished on the website of the Human Resources Department of the ConcordUniversity College at http://cuc.fjnu.edu.cn/rs/.Please pay attention to the website for latest information.
4. Contact:
Mr./Ms. Lu HR Office Tel.: +86 591-22868618